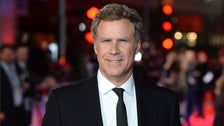 The car carrying the actor was side-swiped by a sedan on I-5 near Laguna Hills, California, and ended up spinning and then rolling over, TMZ reported.
Capt. Larry Kurtz of the Orange County Fire Authority wouldn't reveal the names of the passengers in the SUV, but he confirmed to HuffPost that the vehicle carried three men in their 40s to 50s and one woman in her 20s.
The three men were taken to area hospitals to be checked for minor injuries, while the woman, who was bleeding profusely, was transported to a local trauma center, Kurtz said.
It's not clear whether he has been released from the hospital yet.
California Highway Patrol spokesman Rafael Reynoso told The Hollywood Reporter that neither alcohol nor drugs are suspected in the crash. He also said no citation or arrests have been made.
Ferrell dressed as his legendary anchorman character Ron Burgundy at the event.
Image & Source link